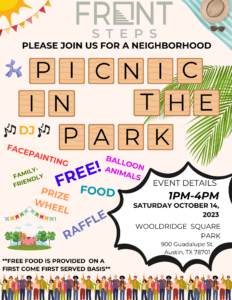 Community Picnic in the Park – Everyone's Invited!
Join us for a delightful day of togetherness and community spirit at the Picnic in the Park hosted by Front Steps. This event is a celebration of unity, compassion, and the power of coming together to positively impact our community.
Date: Saturday October 14, 2023
Time: 1PM-4PM
Location: Wooldridge Square Park
900 Guadalupe St
Austin, Texas 78701
About the Event: At Front Steps, we believe in creating a stronger community by fostering connections and understanding among all members. Our community picnic is an opportunity to share laughter, stories, and delicious food in the heart of Austin, Texas. Woolridge Park will be transformed into a space of joy and camaraderie, where people of all ages and backgrounds can come together.
What to Expect: 🍔 Food and Refreshments: We'll be serving up a mouthwatering assortment of picnic treats, including sandwiches, snacks, refreshing drinks, and more. Food will be provided on a first-come-first-served basis, so arrive early to enjoy the feast! We will also be having a raffle and silent auction so make sure to get your tickets
🎉 Games and Activities: From fun games for the kids to engaging activities for the whole family, there's something for everyone to enjoy. Join in the festivities, connect with fellow community members, and make memories that will last a lifetime.
🎶 Live Entertainment: Groove to the rhythm of local musicians and performers as they provide a lively backdrop to our day of celebration.
🤝 Community Bonding: This picnic is a chance to meet new friends, catch up with old ones, and strengthen the bonds that make our community so special.
How to Join: This event is open to everyone! Whether you're a long-time Austin resident, a newcomer to the area, or want to connect with like-minded individuals who care about our community, you're warmly invited to attend. Just bring your picnic blanket, your smiles, and your enthusiasm for a wonderful day in the park.
Spread the Word: Help us make this picnic a true celebration of community spirit! Share this event with your friends, family, neighbors, and colleagues. Let's come together and show that when we stand united, amazing things can happen.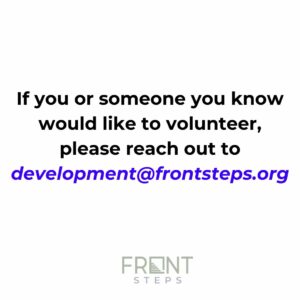 Mark your calendars, set your reminders, and get ready for a memorable day of connection, laughter, and unity at the Front Steps Community Picnic in the Park. We can't wait to see you there!